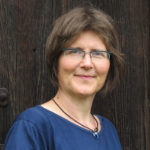 Wollte Aktion Agrar eigentlich "KuhRage" nennen und wohnt in einem blauen Bauwagen auf dem Lande.

Wir sind eine von 40 Bürgerinitiativen in Brandenburg, die sich gegen Massentierhaltung und Mastbetriebe engagieren. Seit Oktober 2014 setzen wir uns gegen den fragwürdigen Bestandsschutz und die unrechtmäßige Wiederinbetriebnahme der Ferkelzuchtanlage in der anliegenden Gemeinde Hornow – Wadelsdorf ein. Inhaber der Anlage ist der als Schweinebaron bekannte Niederländer Adrianus Straathof, der größte Schweinezüchter Europas, der seit geraumer Zeit durch alle Medien bekannt geworden ist. Die schrecklichen Bilder aus Straathofs Anlagen kann niemand mehr vergessen, der sie einmal gesehen hat. Viel zu viele Tiere auf engstem Raum zusammengepfercht, kranke und tote Tiere, einzig zu dem Zweck, diesen Tier-Großfabrikanten noch reicher zu machen. Straathof hält sich weder an deutsches Baurecht (die Anlage in Wadelsorf wurde lange als Schwarzbau errichtet) noch an andere Gesetze (z.B. Immissionsschutz) oder den Tierschutz. Er ignoriert die gesetzlichen Regeln und ist damit leider sehr erfolgreich. Das wollen wir als Bürgerinitiative nicht zulassen.
Straathofs Megastall-Strategie hat in den letzten 10 Jahren dazu beigetragen, dass Zehntausende bäuerlicher Betriebe aufgeben mussten. Endlich hat das Verwaltungsgericht Magdeburg Adrianus Straathof in November 2014 mit einem bundesweiten Tierhaltungs- und Betreuungsverbot belegt. Trotzdem laufen seine Anlagen weiter und auch unsere Behörden sind nicht in der Lage, dieses Recht gegen diesen Groß-Industriellen durchzusetzen, er wird bis heute von unserer Landesregierung geschützt. Bereits jetzt landen jährlich über 4 Millionen Schweine im Müll, das zeigt, dass wir keine weiteren Anlagen – weder in Wadelsdorf, noch sonst wo – brauchen. Seit Januar 2015 läuft ein Gerichtsverfahren vertreten durch den NABU, gegen das Landesamt für Umwelt, Gesundheit und Verbraucherschutz. Von Oktober bis April lief unsere Online-Petition gegen die neue Ferkelzuchtanlage in Wadelsdorf bei der wir über 5.000 Unterschriften gesammelt haben. Wir setzen uns solange weiter für die Tiere, die Menschen, die Umwelt und unser ländliches Leben ein, bis rücksichtslose Agrarindustrielle wie Straathof in die Schranken gewiesen werden.
Text von Markus Schursch und Yvonne Berger
---
Bild: © BI Wadelsdorf

Gerne schreibt der zweitgrößte Lebensmittelhändler Deutschlands, die REWE-Gruppe, Nachhaltigkeit auf ihre Internetseiten. Doch daran zu glauben fällt schwer.
Am Montag, den 20. Juli schütteten Aktivist*innen der Kampagne Leere Tonne körbe- und säckeweise Brote, Brötchen und Kuchen vor dem Sitz der REWE GmbH in Köln auf den Boden. Sie protestieren gegen Verträge und Kontrollgänge der Supermarktkette, mit denen REWE Bäcker in ihrem Vorkassenbereich zwingt, bis zum Ladenschluss die Verkaufsregale immer wieder voll zu machen.
Tausende Kilos wertvoller Backwaren landen dadurch zusätzlich im Müll, kritisieren die Aktiven. Bei Edeka sieht es leider nicht besser aus. Wer aufmerksam kurz vor Ladenschluss Bäckereien in Supermärkten besucht, kann fast immer sehen, wie viel dort noch liegt und zum Wegwerfen verurteilt ist.
Für die Kampagnengruppe sind das gute Gründe, noch stärker für den Wegwerfstopp einzutreten. Denn freiwillig ändern die Märkte nicht ihre Regeln, immer ist der Blick auf die Konkurrenz da und der Kampf um die Kundschaft.
In Köln sind die Foodsharing-Aktiven intensiv mit Backwaren befasst. Inzwischen verteilen sie monatlich 20.000 Kilo leckerer Brote und Brötchen an mehreren Verteilstellen an begeisterte Esser*innen. Nach ihren Schätzungen sind das jedoch noch weniger als 1 Prozent der Menge, die in der Domstadt monatlich weggeworfen wird.
Die Kampagne leere Tonne freut sich indes über wachsendes Interesse: Schon über 11.000 Menschen haben unterzeichnet, viele Gruppen weisen auf die Aktion hin und von der Aktion berichteten mehrere Fernsehsender, Radio und Tageszeitungen.

Am ersten Freitag im Juli ist es glühend heiß in Berlin. Ganz gut aushalten lässt es sich aber in den Prinzessinnengärten in Kreuzberg, einem der bekanntesten Stadt-Garten-Projekte des Landes. Unter jungen Bäumen kommt die Runde unserer Kampagnen-Starter*innen zusammen: Aktive vom Lebensmittelretter-Netzwerk Foodsharing, von der Slow Food Jugend Deutschland und Aktion Agrar. Wir haben einen Einkaufswagen dabei, bunte Banner und 8.000 kleine Aufkleber mit 4 lustigen Motiven.
Am heutigen Tag soll die Kampagne "Leere Tonne – Wegwerfstopp für Supermäkte" starten. Valentin Thurn, der mit seinem Film "Taste the Waste" international Menschen wachrüttelte und das Foodsharing-Netzwerk mit initiierte, wird heute Abend bei einer Veranstaltung mit Musik und Diskussion auch unsere Kampagne vorstellen. Er wird davon erzählen, wie viel köstliche Kirschmarmelade aus den unverkäuflichen Steinfrüchten herzustellen ist, gerade weil die süßesten Früchte oft schon am Baum einreißen und sich damit in den Augen des Supermarkt-Einkaufs disqualifizieren. Von denen, die es in die Markt-Regale schaffen, werden aber erneut große Mengen weggeworfen, ohne dass sie jemand zur Kasse getragen hätte. Der Einkauf wird durch Werbestrategen zum eigenen Kampfplatz, oft tragen die Kaufenden mehr nach Hause, als sie brauchen können. So dass die letzte Wegwerfstation, der private Haushalt, auch einen großen Anteil am Essens-Müllberg hat.
Valentin erzählt aber auch von den Alternativen und der positiven Energie, mit der sie in Angriff genommen werden: Freiwillige des Foodsharing-Netzwerkes retten inzwischen tonnenweise Lebensmittel vor dem Wegwerfen. Und zumindest einige Kisten der geplatzten Brandenburger Kirschen sollen bei einem großen Essensretter-Brunch kollektiv zu Marmelade verarbeitet werden.
Trotzdem braucht es mehr als die Privatinitiativen. Denn die Verschwendung findet systematisch statt. Mit der in Deutschland jährlich weggeworfenen Menge von rund 18 Millionen Tonnen wäre eine LKW-Karawane vollends ausgelastet, die von Kapstadt bis nach Berlin reichen würde.
Das sind Zahlen und Bilder, die mich gruseln lassen. Eine echte Wertschätzung von Bäuerinnen und Bauern ist da ebenfalls systematisch ausgeschlossen. Es wird keine Agrarwende geben, wenn sich nicht auch hier etwas verändert. Deshalb wollen wir eine breite öffentliche Diskussion. Wir müssen auch die Gesetzgeber in die Pflicht nehmen und uns mit unserer Kritik an die Supermärkte wenden.
Nach Gruppenfoto und Kurzpräsentation der Kampagnen-Idee sprechen wir alle an, die sich im Prinzessinnengarten blicken lassen. Immer mehr Menschen sind zwischen den Beeten in Gemüsekisten und Palettenkonstruktionen unterwegs. An diesem heißen Sommerabend in Berlin fühlt es sich an, als wäre eine Veränderung möglich. Die Leute freuen sich über unsere Kampagnen-Maskottchen auf den Aufklebern und unterschreiben gerne den Appell. Etliche sagen sofort zu, auch bei einer Aktion mitmachen zu wollen und werden im Bekanntenkreis von der Kampagne Leere Tonne berichten.

Leere Tonne – Wegwerfstopp für Supermärkte
Am Freitag, den 3. Juli startete Aktion Agrar zusammen mit foodsharing und der Slow Food Jugend Deutschland eine Kampagne gegen Lebensmittelverschwendung. Mitinitiatoren sind der bekannte Dokumentarfilmer Valentin Thurn ("Taste the waste") und der Geld-Boykottierer und Autor Raphael Fellmer.
18 Millionen Tonnen wertvoller Lebensmittel landen allein in Deutschland jährlich auf dem Müll.
Lebensmittel, deren Herstellung viel Arbeit macht, wertvolles Wasser und eine Menge Energie benötigt – und die teilweise um die halbe Welt transportiert werden, um hier auf dem Müll zu landen.
Obwohl der Bundestag schon 2013 beschloss, diese ungeheure Menge bis 2020 um die Hälfte zu reduzieren, geht es nicht richtig voran.
Valentin Thurn sagte: "Es passiert jedoch wenig und die Regierung konzentriert sich einseitig auf die Verbraucher. Dabei kommt Supermärkten eine Scharnierfunktion zu: Sie werfen selbst viele Tonnen essbarer Lebensmittel weg. Und sie entscheiden durch ihre Beschaffungspraxis mit darüber, wie viel Gemüse als unverkäuflich deklariert auf den Äckern verbleibt. Durch ihre Werbung und Kaufanreize mittels Sonderangeboten und Großgebinden beeinflussen sie schließlich auch, ob Konsument*innen mehr nach Hause tragen, als sie eigentlich benötigen."
Unsere Motivation: In Frankreich gibt es seit Mai diesen Jahres ein Gesetz, dass es Supermärkten verbietet, Lebensmittel wegzuwerfen. Dort müssen Lebensmittelhändler nun unverkaufte Ware vergünstigt anbieten sowie an soziale Organisationen über Abnahme-Vereinbarungen weitergeben. Die Verfütterung an Tiere soll ermöglicht werden. Was nicht mehr für den Verzehr geeignet ist, soll als letzte Möglichkeiten getrennt der Kompostierung oder über Biogasanlagen und Müllverbrennungen energetisch verwertet werden.
Wir meinen: Es ist höchste Zeit, auch hier ein solches Gesetz auf den Weg zu bringen.

Aktion Agrar hatte zum Kirchentag eine Resolution mitgebracht – und dafür eine grandiose Mehrheit bekommen:
* Damit wir auch morgen noch geheilt werden können
* Kirchentags-Teilnehmer*innen verabschieden Resolution zu Antibiotika und Tierhaltung

Aktion Agrar stellte am Samstag nachmittag bei der Hauptpodiums-Veranstaltung des Kirchentags unter dem Titel: "Wie wir klug wirtschaften" in der Martin-Schleyer-Halle mit über 500 Teilnehmenden die Resolution "Damit wir auch morgen noch geheilt werden können: Antibiotika-Einsatz senken, Tiere artgerecht halten" vor. Über 100 Menschen hatten das Vorhaben mit ihrer Unterschrift unterstützt – per Abstimmung nahm die Versammlung die Resolution bei nur 4 Gegenstimmen und 12 Enthaltungen an:
"Die Teilnehmenden des Kirchentages in Stuttgart 2015 rufen Bundeskanzlerin Merkel dazu auf, den G7-Gipfel und den europäischen Prozess zu nutzen, um wirksame gesetzliche Regeln gegen Antibiotikabgaben an gesunde Tiere zu erlassen.
Über dringend nötige Anwendungsregeln hinaus kann nur artgerechte Tierhaltung den Bedarf an Antibiotika nachhaltig reduzieren. Für die Gesundheit von Mensch und Tier und für die Zukunft der bäuerlichen Landwirtschaft muss die rasant fortschreitende Industrialisierung in der Tierhaltung und der Trend zu immer größeren Ställen mit vielen Tausend Tieren gestoppt werden. Wenig führt uns das so deutlich vor Augen wie die Entwicklung der Antibiotika-Resistenzen."
Hier geht es zum vollständigen Text:
Antibiotika-Resolution
Aktion Agrar sieht sich motivert, an dieses starke Signal anzuknüpfen: Wir werden auch weiterhin zu dem Thema arbeiten!
Vielen Dank an die tolle Unterstützung bei der Vorbereitung von Menschen vom BUND, Brot für die Welt und dem Bündnis Meine Landwirtschaft!

Unübersichtlich verschachtelte Tochterfirmen, die sich gelegentlich gegenseitig übernehmen und das ganze Unternehmen extrem unübersichtlich machen? Ja, das kennen wir von großen Banken und Konzernen, die Gewinne an der Steuer vorbei rechnen oder verhindern wollen, dass ein starker Betriebsrat die Interessen der Beschäftigten zu nachdrücklich vertritt.
Aber rund um den Schweinestall? (mehr …)

Dieser Beitrag ist unser erster zur Gemeinsamen Agrarpolitik der EU wird garantiert nicht der letzte sein. Im Agrar-Ausschuss in Brüssel wird gerade heiß diskutiert, wer das alles so kompliziert gemacht hat – und dabei fliegen einige Nebelkerzen. Das nervt.
(mehr …)

Wer Landtage baut, sollte eine schöne Treppe vor dem Haupteingang nicht vergessen. Denn so boten die breiten Stufen vor dem Kieler Landeshaus eine wunderbare Kulisse für unser Schweine-Spalier und über 35 Aktivist*innen. Sie waren gekommen, um dem schleswig-holsteinischen Agrarminister Robert Habeck einen goldenen Wasserhahn und 208.000 Unterschriften für eine konsequente Düngeverordnung zu überbringen. (mehr …)

Voll, bunt und laut wurde es am Abend vor der großen Demo "Wir haben es satt" in den beiden Zirkuszelten des Cabuwazi direkt am Berliner Ostbahnhof. Zur großen Schnippeldisko kamen mehr als 1.000 Leute und schnippelten um die Wette Karotten, Kartoffeln, rote Beete und anderes Gemüse klein. In einem Zelt stand Schnippeltisch an Schnippeltisch, umringt von fröhlichen Menschen aus dem ganzen Bundesgebiet. Im anderen blubberten im größten Suppentopf der Bewegung die ersten Zutaten des köstlichen Bio-Eintopfes, gerüht vom Koch-Aktivisten Wam Kat.
Direkt neben der beeindruckenden Kochstelle lief ein abwechslungsreiches Programm mit Reden, Filmchen und Interviews. Astrid Goltz von Aktion Agrar führte mit Irmi Salzer vom Österreichischen Bauernverband durch den Abend. Erst nach 23 Uhr leerte sich der Platz und die Vorbereitungscrew machte sich ans Aufräumen. (mehr …)