Arable land is the basis of the world's food supplies.
Land grabbing threatens the livelihoods of many farmers in the Global South in particular. Investors are using large-scale land acquisitions to secure tracts of land which previously served local populations as the basis of their food supplies and livelihoods. This means that the crops usually grown on these are animal fodder and food for export. The fact that this is even possible is due to poorly enforced land rights or no land rights at all. Small farmers, indigenous peoples and nomads are driven off by force, and worldwide hunger is exacerbated by the large-scale projects of a few investors and land deals.
Land concentration is a global phenomenon, but the competition for land is drastically intensifying here in Germany too.
In Europe just 3% of agricultural businesses own more than 50% of the area [1]. In Germany, the purchase price of land has risen on average by over 190% since 2005 [2]. Land is growing scarcer and more expensive, and is increasingly unequally distributed. These developments fuel the continuous disappearance of farms in Germany. Between 2007 and 2016 alone, every third farm here in Germany was forced to close, the total number of farms has halved in the last 20 years [3].
The reasons why the situation on the land market is growing worse are diverse: the natural scarcity of land, progressive degradation, land sealing and the growing demand for land.
Land purchases by non-agricultural investors for whom land functions as a secure, profitable long-term investment, are a particular problem, as is the rise in the takeover of entire agricultural businesses, as well as their land, by means of 'share deals' (share purchases), which is contributing to the increasing concentration of arable land in the hands of the few. Land is becoming an object of speculation for financially powerful players [4].
Conversely, local farms and agricultural businesses are finding it more and more difficult to obtain arable land and pasture, partly because they cannot afford the higher leasing and purchase prices out of what their farms produce. This means that, even for young people wishing to earn a living in farming, access to capital and land are the greatest hurdles. However, we need more young farmers for the future of traditional farming methods – a mere 6% of Europe's farmers* are under 35 years old [5]!
Access to arable land is after all a necessary prerequisite for enabling farmers to manage land independently and ecologically sustainably in multiple ways. A multiplicity of businesses ensures diversity in farming methods, hence a highly diverse landscape and added value for biodiversity.
Time is short! We need new ideas and are calling for a rethink in agricultural policy, in order to restore the access to land for (young) farmers, who will bring positive effects for the environment and biodiversity, not least in structurally weak regions.
Our projects:
The new activities booklet revolves around precisely this topic. Including a lot of background information, opportunities for participating and tips on activities, it is meant to offer an easy introduction and motivate the reader to engage with a way of farming based on small farms and agricultural policy. If a lot of people know the facts, together, we will be able to make a difference.
You can order the booklet here and distribute it.
During the year, we present you with eight different initiatives, including ingenious ideas and calls for action, and indicate new ways of gaining access to land on behalf of farmers and the common good. You'll find plenty to inspire you there.
Activities & political approaches
A new law on agricultural structures is to be passed in Saxony-Anhalt. Together with the Arbeitsgemeinschaft bäuerliche Landwirtschaft (German La Via campesina organisation), we are advocating for the concerns of small farmers to be considered and participating in discussions with the decision makers. We are taking high-profile activities into the streets and presenting them to the state parliament. The activity on 13 January was the start, and we are currently formulating issues to be put on the parliamentary agenda. We will be giving you information about future activities in due course.
Agricultural policy, and the rules on who can buy or lease land and at what price, concern us all. Together with you and our partner organisations, we are starting a petition to collect your votes for a different policy on land, which we will then hand over to the appropriate bodies together.
Activities you can take part in
Let's tackle changing agriculture together! Our community activity, 'Aktion Agrar Kartoffelspaß – Flächenfraß einsacken!' (Aktion Agrar potato pleasures – 'laying land grabbing 'to rest') started in the spring. There will be another inspiring activity in the autumn. Together with farmers, we'll publicise the scandalous conditions on the land market and advocate placing arable land in the hands of farmers.
Another five-day bike ride on the topic is to take place in the summer. Please make sure your bicycles are in good repair so that you can look forward to plenty of fresh air and exciting rest stops.
Together with our partners from the 'Bündnis Junge Landwirtschaft' (German young farmer's alliance) and the AbL (German Syndicate of Traditional Agriculture), we are designing a sensitively compiled information flyer which explains the causes, problems and possible solutions clearly and simply, in order to show what you yourselves can do.
We will be offering workshops at various events, at first online unfortunately but hopefully in person again soon and discussing the access to land issue and traditional farming methods with you. Please don't hesitate to ask us about this.
Stay informed on what's happening when. Subscribe to our newsletter!
Bündnis Junge Landwirtschaft (German young farmer's alliance)
The German young farmer's alliance acts in the interests of young entrepreneurs in farming.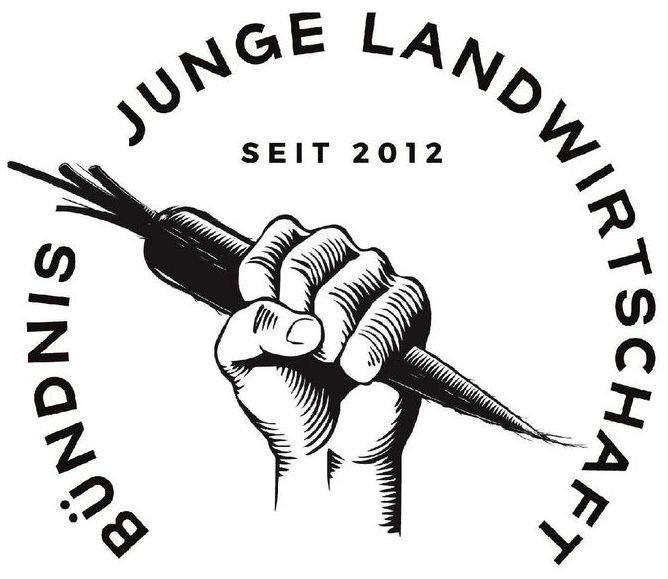 Arbeitsgemeinschaft bäuerliche Landwirtschaft (German Syndicate of Traditional Agriculture)
The German Syndicate of Traditional Agriculture (AbL) represents the interests of farmers who advocate sustainable, socially and environmentally compatible farming. Diversity on arable land and traditional farming methods are fundamental to our decisions about the food we eat. It is part of the worldwide peasant network La Via Campesina.