13. November in Trier: Vortrag "Globalisierung des Ernährungssystems – Fusionen globaler Player", Dr. Thomas Dürmeier (18:00 Uhr, Uni Trier, Raum B16, Veranstalter: Referat für Ökologie)
14. November in Marburg: Vortrag "Fusion von Bayer und Monsanto und Konzernmacht", Dr. Thomas Dürmeier (20:00 Uhr, Weltladen Marburg, Markt 7, 35037 Marburg, Veranstalter: Humanistische Union und Weltladen Marburg)
15. November in Heilbronn: Vortrag "Globalisierung des Ernährungssystems. Fusionen globaler Player", Dr. Thomas Dürmeier (19:00 – 20:30 Uhr, VHS Heilbronn, Kirchbrunnenstr. 12)
21. November in Schwerin: Vortrag "Fusion von Bayer und Monsanto und Konzernmacht" und Dino-Aktion (19 Uhr, Gartensalon Schleswig-Holstein-Haus,Puschkinstraße 12, 19055 Schwerin Veranstalter: Vernetzungsinitiative "Global engagiert in Schwerin")
30. November in Berlin: Vortrag "Fusion von Bayer und Monsanto und Konzernmacht", Dr. Thomas Dürmeier und Kurzfilmvorstellung (19 Uhr, Angaben zum Ort folgen, Veranstalter: Stop Bayer Monsanto (Infos s.u. auf dieser Seite))
6. Dezember in Bremen: Vortrag "Fusion von Bayer und Monsanto und Konzernmacht", Dr. Thomas Dürmeier (19 Uhr im Überseemuseum Bremen, Veranstalter: Attac Bremen, biz)
12. Januar 2018 in Leipzig: Vortrag "Fusion von Bayer und Monsanto und Konzernmacht", Dr. Thomas Dürmeier (Ort und Zeit folgen, Veranstalter: Zukunftsfelder Leipzig)
24. Januar in Aachen: Vortrag "Fusion von Bayer und Monsanto und Konzernmacht", Dr. Thomas Dürmeier (Ort und Zeit folgen, Veranstalter: Attac Aachen)
21. Februar in Regensburg: Vortrag "Fusion von Bayer und Monsanto und Konzernmacht", Dr. Thomas Dürmeier (Evangelisches Bildungswerk Regensburg e. V., Am Ölberg 2, 93047 Regensburg, Veraanstalter: Attac Regensburg, Evangl. Bildungswerk Regensburg
Hier hat es schon Aktionen und Vorträge gegeben:
4. November in Kassel: Vortrag "Wettbewerbspolitik und Wirtschaftsethik: Wie sich die Fusion von Bayer und Monsanto auf die SDGs auswirkt", Dr. Thomas Dürmeier, Sandershaus Hostel, Sandershäuser Straße 79, 34123 Kassel, öffentliche Veranstaltung auf der Jahrestagung von SNEEP
22. und 29. Oktober in Berlin: Die Student*innen-Initiative Stop Bayer-Monsanto mit dem Konzerndino auf der Straße, Mauerpark
23. Oktober in Köln: Vortrag "Fusion von Bayer und Monsanto und Konzernmacht", Dr. Thomas Dürmeier (18:30 Uhr, Hörsaal A2, Hörsaalgebäude der Universität zu Köln, Universitätsstraße 35, 50931 Köln. Veranstalter: Attac)
19. Oktober in Berlin: Die Mega-Fusion Bayer-Monsanto und ihre Auswirkungen auf den Agar- und Ernährungssektor, Diskussionsabend mit Pat Mooney (Träger des alternativen Nobelpreises) und Vertreter*innen der Parteien (18:00 Uhr, GLS Campus "Lounge", Kastanienallee 82, 10435 Berlin, Veranstalter: Forum Umwelt und Entwicklung), alle Infos
1. Oktober in Oderaue: Vorstellung der Kampagne beim "Frühstück am Rand" des "Theater am Rand", 11 Uhr
12. September in Witten: Vortrag "Fusion von Bayer und Monsanto und Konzernmacht" und Dino-Aktion, 18:30 Uhr, Bonhoefferstr. 10, Johanniszentrum
10. September in Hamburg: 10-17 Uhr Aktion mit Konzerndino auf dem Stadtteilfest Neugraben
2. September in Köln: der Konzerndino auf dem 2. Kölner Menschenrechtsfrühstück. 10-18 Uhr im Park der Menschenrechte, Bachemer Straße, Köln-Lindenthal, Veranstalter: FIAN
5.-6. August in Berlin Slowfood Youth Akademie
5.-6. Juli in Hamburg: Workshop und Dino-Aktion auf dem G20-Alternativgipfel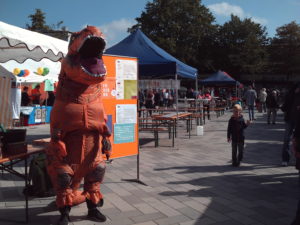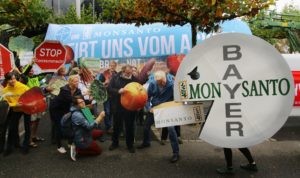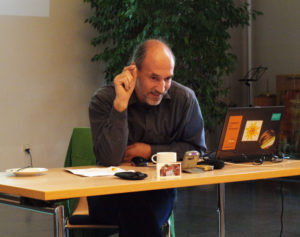 Hol' den Vortrag zum Thema in Euren Ort – Bring den Dino auf die Straße!
Wir wollen nicht tatenlos zusehen, wie Bayer und Monsanto ihre Fusion in Brüssel verhandeln. Wir wollen nicht, dass eine Handvoll Konzerne so viel Macht über das Saatgut, die Grundlage unser aller Ernährung, erlangen.
Werde jetzt aktiv!
Aktion 1: Organisiere eine Vortragsveranstaltung. Lade eine/n Referent/in der Kampagne Megafusionen stoppen ein!
Kontrollieren bald 3 Konzerne fast 2/3 des weltweiten Saatgutmarktes und mehr als 70 Prozent der weltweit gehandelten Pestizide? Die Übernahme des US-Gentechnikriesen Monsanto durch die Bayer-AG ist nur eine von 3 Megafusionen des Jahres 2017. Die Folgen dieser dramatischen Konzentration werfen immer mehr Fragen auf. Auch diese: Wie groß sollten Konzerne werden dürfen? Warum stoppen die Kontrollbehörden diese Fusionen nicht? Die gute Nachricht: immer mehr Menschen und Organisationen wollen Konzernmacht zum Thema machen.
Vortrag über die aktuelle Situation des Wettbewerbsrechts und Forderungen an eine schärfere Fusionskontrolle und weitere wirksame Machtbegrenzung. Referent: Dr. Thomas Dürmeier, Volkswirt & Autor Studie z. Fusion v. Bayer und Monsanto.
Aktion 2: Hole den Dino in Euren Ort!
Leihe das Dinosaurierkostüm aus und zeige in Deiner Stadt oder Deinem Dorf, dass jetzt Widerstand gegen die Megafusionen nötig ist. Wir haben Flyer und eine Videoaktion für Eure Fußgängerzone oder ein Sommerfest oder … vorbereitet.
Bestelle jetzt das Aktionspaket per email an info@aktion-agrar.de
Aktion 1 und Aktion 2: Konzernmacht drinnen und draußen zum Thema machen.
Gerne kannst Du den Vortrag und die Aktion draußen kombinieren. Wenn der Dino zum Beispiel ein oder zwei Tage vor dem Vortrag in Eurer Stadt auftaucht, könnt Ihr gut Werbung für einen Vortrag machen. Oder Ihr verabredet nach dem Vortrag eine gemeinsame Aktion und holt Euch dann das Aktionspaket.
Das Aktionspaket enthält:
– 50-100 Flyer
– 10-15 Broschüren
– 10 Unterschriftenlisten
– 10 Daumenkinos
– 1 Dinokostüm
– 1 Banner
– 3 Stopp-Schilder
– 1 Muster-PE und PM
– 1 Anleitung zu Pressearbeit, Aktion, Dreh und Versand von Filmclips
Schaut Euch hier für ein inhaltliches Briefing das Video Tutorial und FAQ von den Autor/innen unserer Broschüre zur Fusion von Bayer und Monsanto Thomas Dürmeier und Jutta Sundermann an!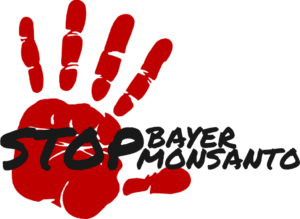 Alle Berliner*innen sind herzlich eingeladen zu den offenen Treffen der Student*innen-Initiative "Stop Bayer Monsanto"
nächste Termine:
am 07.11. um 18Uhr im "Schlauch", Storkower Str. 225
Gemeinsam durch Austausch und Diskussion Zusammenhänge entdecken, mit kurzen Impulsvorträgen zu:
Saatgut und Gentechnik
Druck der Finanzmärkte auf Konzerne
das Geschäft mit der Entwicklungshilfe
Anschließend besprechen wir Möglichkeiten in den folgenden Wochen aktiv zu werden und die konzernkritische Bewegung gemeinsam zu stärken.
Wir freuen uns auf alle, die Lust haben, an diesem offenen und interaktiven Austausch teilzunehmen!
Hier gehts zum Event:
Am besten einfach Kontakt aufnehmen:
contact@stop-bayer-monsanto.de
https://www.facebook.com/StopBayerMonsanto/
SBM beim G20
Je größer ein Konzern wird, desto weniger kann Transparenz und Überschaubarkeit von Handeln und Struktur garantiert werden und desto weitreichender sind die Folgen der Entscheidungen innerhalb der Unternehmen. Konzernen, die auf der ganzen Welt aktiv sind, steht politisch kaum noch etwas entgegen. Ob es um Steuern, Preise oder Umweltverordnungen geht; es findet sich immer ein Weg profitorientierte Interessen zu Kosten von Mensch und Umwelt durchzusetzen.
Besorgt es dich ebenfalls, dass sich weltweit die Märkte verdichten und in dem Zuge Unternehmen wie Bayer und Monsanto stets mehr Einfluss gewinnen?  Hast du Lust das Thema weiter zu ergründen und Alternativen, vor allem in Richtung nachhaltige Landwirtschaft zu entwickeln?
Dann bist du herzlich eingeladen, dich bei der Initiative 'Stop-Bayer-Monsanto' zu engagieren, in eines unserer Treffen hineinzuschnuppern, mit uns Flyer zu verteilen oder andere Aktivitäten mitzugestalten!
Gemeinsam erarbeiten wir uns Themen rund um die Fusion von den Agrarchemiekonzernen Bayer und Monsanto. Dabei arbeiten wir fest zusammen mit anderen Gruppen, unterstuetzen ihre Arbeit und entwickeln eigene Inhalte, Veranstaltungen und Moeglichkeiten der Fusion Steine in den Weg zu legen. Unsrere Recherchen koennen  manchmal auch sehr erdrückend sein, bspw. die Lücken des Wettbewerbsrechts oder den Druck der Finanzmärkte auf Konzerne. Da kann eine offene und heitere Atmosphäre unter lieben Menschen sehr nützlich sein, um diese Inhalte zu verarbeiten und sie in etwas Positives zu verwandeln. Denn wir beschäftigen uns auch besonders mit Alternativen: Permakultur, Saatgutvermehrung, nachhaltige Landwirtschaft und alternative Ernährung in Berlin sind ebenfalls im Programm.
Denn eines steht fest: weiter wie bisher ist keine Option. Also lasst und gemeinsam aufklären und laut und kreativ eine andere Landwirtschaft ohne übermächtige Konzerne fordern und mitgestalten!
Liebe Grüße,
euer SBM-Team
English:
The larger a transnational company gets, the less transparent and manageable it becomes; the more it grows, the more reach its policies have. Are you worried about the constant growth of Global Players and the ongoing monopolization happening in almost every economic sector?
Then you are more than welcome to join the initiative 'Stop-Bayer-Monsanto'!
Get to know us at one of our meetings, help us by handing out flyers or being part of and designing other activities. It is our goal to do our part in preventing or at least complicating the mega-merger between Bayer and Monsanto. Together we work on a wide variety of topics related to the merger, which can be quite overwhelming sometimes (e.g.: competition law or the pressure oft he finance markets on the TC's). A kind and open atmosphere with friendly people can be very helpful in comprehending the matters at hand and to subsequently create something positive.We do not only seek to protest the merger but the goal of our activism run is to find and support viable alternatives to the main stream development in agriculture on a long term basis: permaculture, sustainable agriculture and alternative ways to eat in Berlin.
Our program offers something for everyone! Write us or come to our meetings (you can find the exact dates on Facebook or just write us an e-mail), we will be happy to welcome you!
Best wishes,
your SBM-Team