Die drei aktuellen Mega-Fusionen der Agrar- und Chemiekonzerne Bayer und Monsanto, Dow und Dupont sowie ChemChina und Syngenta rufen auf der ganzen Welt Protest hervor. Denn sie gefähren die Zukunftsperspektiven bäuerlicher, ökologischerer Landwirtschaft und lokal angepasster Saatgutsystem.
Zusammen mit 20 anderen Organisationen geben wir nach einer intensiven Recherchephase die Broschüre "Fusion von Bayer und Monsanto – Streitschrift gegen die Ohnmacht der Wettbewerbskontrolle" heraus. Sie informiert über die fusionswilligen Konzerne und ihre Motive für den Zusammenschluss sowie die zu erwartenden Folgen. Sie führt ein in das Wettbewerbsrecht und die Bedingungen, unter denen Fusionskontrolle und die Begrenzung von Konzernmacht stattfindet. Diese Praxis ist unzureichend.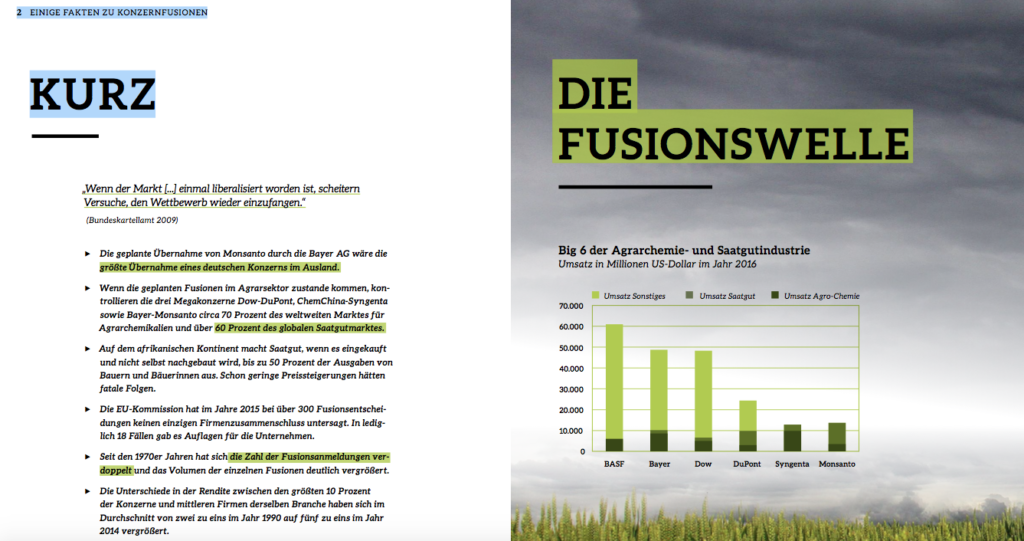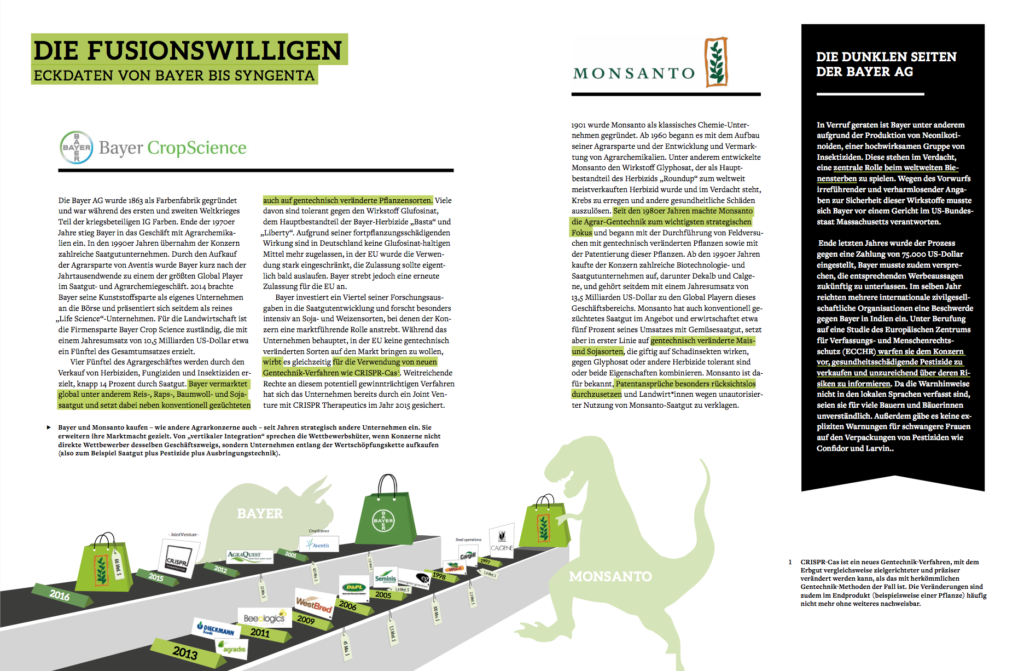 Eine schärfere Fusionskontrolle ist bitter nötig
Die drei neuen Mega-Konzerne werden gemeinsam rund 60 Prozent des Saatgut- und über 70 Prozent des weltweiten Pestizidmarktes kontrollieren. Sie machen schon heute mit erschreckendem Erfolg Druck auf politische Entscheider/innen, ihre Chemikalien und Laborpflanzen ohne große Hürden zuzulassen. Sie verdrängen kleine Züchtungsbetriebe und verändern das Gesicht der Landwirtschaft weltweit. Viele Jahre lang konnten die großen Unternehmen darauf vertrauen, dass sich niemand einmischt in ihr Giganten-Monopoly. Die EU hat zum Beispiel in 2015 über 300 Fusionsanträge bearbeitet – und keinen einzigen davon verboten. Zu große Konzerne wieder zu entflechten und kleiner zu machen, ist derzeit in kaum einem der reichen Länder vorgesehen. Das wollen wir ändern: Wir sorgen dafür, dass die Streitschrift weit verbreitet wird und auch direkt bei den Entscheidungsträgern landet.
Unsere Forderungen
1. Die aktuellen Megafusionen im Agrarsektor stoppen!
2. Regeln zum Stopp von Fusionen verschärfen
3. Transparente Marktmacht und Firmenstrukturen!
4. Rechtsinstrumente für Entflechtung ausbauen!
5. Konzernmacht weltweit eingrenzen!
6. Konzern-Kontrolleur/innen stärken!
7. Ernährungssouveränität statt Agrarindustrie!
Der Brief aus Brüssel
Aktion Agrar hatte im März zusammen mit Friends of the Earth Europe, Greenpeace, der Europäischen Landwirtschafts- und Ernährungs-Gewerkschaft EFTAT und 200 anderen Organisationen aus ganz Europa einen offenen Brief nach Brüssel geschrieben. Die Wettbewerbskommissarin antwortet jetzt und verspricht, den noch immer ausstehenden Antrag von Bayer sehr genau zu prüfen und ruft dazu auf, Fakten, die die fatalen Auswirkungen der Fusionen belegen, nach Brüssel zu kommunizieren.
Der Antwortbrief kann nicht darüber hinwegtäuschen, dass Margrethe Vestager vor Ostern schon ihr OK zu zwei Konzern-Hochzeiten gegeben hat. Sowohl die US-amerikanischen Agarchemiekonzerne Dow und Dupont als auch der chinesische Staatskonzern Chemchina und der Schweizer Saatgut- und Pestizid-Riese Syngenta dürfen fusionieren.
Konzernmacht muss zum öffentlichen Thema werden, das Wettbewerbsrecht muss sich verändern!